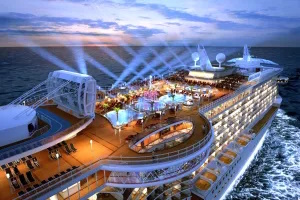 Crociereonline.net – In questa sezione potrai trovare tutte le navi presenti sul nostro portale, di tutte le compagnie di crociere, divise per compagnia e in ordine alfabetico.
Cliccando sulla nave troverai le informazioni, la storia, gli itinerari, le cabine le caratteristiche tecniche della nave stessa e le informazioni sulla Compagnia.
Potrai anche accedere a tutte le crociere di quella nave dove potrai vedere le disponibilità delle cabine, le recensioni, una galleria di fotografie, e le condizioni di viaggio. Potrai quindi decidere se richiedere un preventivo e acquistare online il viaggio. Buona navigazione!
Costa Crociere:
Costa Deliziosa, Costa Diadema, Costa Fascinosa, Costa Favolosa, Costa Firenze, Costa Fortuna, Costa Pacifica, Costa Serena, Costa Smeralda, Costa Toscana.
MSC Crociere:
MSC Armonia, MSC Bellissima, MSC Divina, MSC Euribia, MSC Fantasia, MSC Grandiosa, MSC Lirica, MSC Magnifica, MSC Meraviglia, MSC Musica, MSC Opera, MSC Orchestra, MSC Poesia, MSC Preziosa, MSC Seascape, MSC Seashore, MSC Seaside, MSC Seaview, MSC Sinfonia, MSC Splendida, MSC Virtuosa, MSC World America, MSC World Europa.
Aroya Cruises
Manara.
Azamara Cruises
Azamara Journey, Azamara Onward, Azamara Pursuit, Azamara Quest.
Carnival Cruise Line:
Carnival Breeze, Carnival Celebration, Carnival Conquest, Carnival Dream, Carnival Elation, Carnival Freedom, Carnival Glory, Carnival Horizon, Carnival Legend, Carnival Liberty, Carnival Luminosa, Carnival Jubilee, Carnival Magic, Carnival Miracle, Carnival Panorama, Carnival Paradise, Carnival Pride, Carnival Radiance, Carnival Sunrise, Carnival Spirit, Carnival Splendor, Carnival Valor, Carnival Venezia, Carnival Vista, Mardi Gras.
Celebrity Cruises:
Celebrity Ascent, Celebrity Apex, Celebrity Beyond, Celbrity Constellation, Celebrity Eclipse, Celebrity Edge, Celebrity Equinox, Celebrity Flora, Celebrity Infinity, Celebrity Millennium, Celebrity Reflection, Celebrity Silhouette, Celebrity Solstice, Celebrity Summit, Celebrity Xpedition, Celebrity Xploration.
Celestyal Cruises:
Celestyal Crystal, Celestyal Journey, Celestyal Olympia.
Club Med Croisieres:
Club Med II.
Compagnie Française de Croisières (CFC):
Renaissance.
Crystal Cruises:
Crystal Serenity, Crystal Symphony.
Cunard Line:
Queen Anne, Queen Elizabeth, Queen Mary 2, Queen Victoria.
Disney Cruises:
Disney Dream, Disney Fantasy, Disney Magic, Disney Wish, Disney Wonder.
Explora Journey:
Explora I, Explora II
Holland America Line:
Eurodam, Koningsdam, Nieuw Amsterdam, Nieuw Statendam, Noordam, Oosterdam, Rotterdam, Volendam, Westerdam, Zaandam, Zuiderdam.
Norwegian Cruise Line:
Norwegian Bliss, Norwegian Breakaway, Norwegian Dawn, Norwegian Encore, Norwegian Epic, Norwegian Escape, Norwegian Gem, Norwegian Gataway, Norwegian Jade, Norwegian Jewel, Norwegian Joy, Norwegian Pearl, Norwegian Prima, Norwegian Sky, Norwegian Spirit, Norwegian Star, Norwegian Sun, Norwegian Viva, Pride of America.
Ponant Cruises:
Le Ponant, L'Austral, Le Boreal, Le Lyrial, Le Soléal, Le Champlain, Le Laperouse. Le Bouganville, Le Bellot, Le Jaques Cartier, Le Comandant Charcot.
Princess Cruises:
Caribbean Princess, Coral Princess, Crown Princess, Diamond Princess, Discovery Princess, Emerald Princess, Enchanted Princess, Grand Princess, Island Princess, Majestic Princess, Regal Princess, Royal Princess, Ruby Princess, Sapphire Princess, Sky Princess, Sun Princess, Star Princess.
Quark Expeditions:
Ocean Adventurer, Ultramarine, World Explorer.
Royal Caribbean:
Allure of the Seas, Amplificata of the Seas, Anthem of the Seas, Brilliance of the Seas, Enchantment of the Seas, Explorer of the Seas, Freedom of the Seas, Grandeur of the Seas, Harmony of the Seas, Icon of the Seas, Independence of the Seas, Jewel of the Seas, Liberty of the Seas, Mariner of the Seas, Navigator of the Seas, Oasis of the Seas, Odyssey of the Seas, Ovation of the Seas, Quantum of the Seas, Radiance of the Seas, Rhapsody of the Seas, Serenade of the Seas, Symphony of the Seas, Spectrum of the Seas, Utopia of the Seas, Vision of the Seas, Voyager of the Seas, Wonder of the Seas.
Scenic Cruises:
Scenic Eclipse, Scenic Eclipse II
Sea Cloud Cruises:
Sea Cloud, Sea Cloud II, Sea Cloud Spirit.
Silversea Cruises:
Silver Cloud, Silver Dawn, Silver Endeavour, Silver Explorer, Silver Moon, Silver Muse, Silver Nova, Silver Origin, Silver Ray, Silver Shadow, Silver Spirit, Silver Whisper, Silver Wind.
Star Clippers:
Royal Clipper, Star Flyer, Star Clipper.
The Ritz-Carlton Yachts Collection:
Evrima, Ilma, Luminara.
The Yachts of Seabourn:
Seabourn Encore, Seabourn Odyssey, Seabourn Ovation, Seabourn Pursuit, Seabourn Quest, Seabourn Sojourn, Seabourn Venture.
Virgin Yoyages:
Brillant Lady, Resilient Lady, Scarlet Lady, Valiant Lady.
Windstar Cruises:
Star Breeze, Star Legend, Star Pride, Wind Spirit, Wind Star, Wind Surf.
Vedi anche la pagina delle navi in costruzione